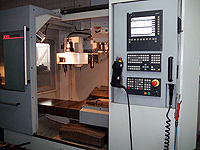 In order to meet your expectations, we would like to present the offer of the tool shop of the company FrezMold s.c. We are a family-managed company, supported by a team of talented professionals. We are experienced in production of semi-finished and finished products with application of machining. The produced details are formed according to patterns or technical drawings handed-over by a client or on the basis of documentation prepared by our constructors.
Our main objective is to provide high quality of the produced items through continuous improvement of our internal procedures and investments in the latest machines and technologies. All this contributes to the highest level of customer service and high reliability of the company. We render our production services for clients from Poland, Germany and Switzerland.
FrezMold s.c. renders services in scope of:
CNC milling – stamps, dies, electrodes for electrical discharge machining, plastic models, wooden forms, etc.,
CNC wire electrical discharge machining – for example cutting of punching dies, stamps, dies, pads, H7 holes, etc.,
Grinding, rolling, coordination drilling,
Manufacture of injection moulds, dies, stamping dies, etc.